Max and Rosy
Regular price
R 180.00 ZAR
Regular price
Sale price
R 180.00 ZAR
Unit price
per
Sale
Sold out
Description
Homemade with locally sourced human grade quality ingredients

No added salt, Dangerous preservatives or Food colourants
Herbs and Spices for extra benefits 
Care Instructions:
To help maintain the quality and shelf life of this product, Keep Refrigerated 
Specifications:
Ingredients:
Chicken Meat, Oats, Brown Rice, Lentils, Chicken Liver, Chicken Heart, Mussels, Sunflower Seeds, Flaxseeds, Kelp, Egg Shell, Ginger, Basil, Parsley, Mint
Country of Origin:
Share
View full details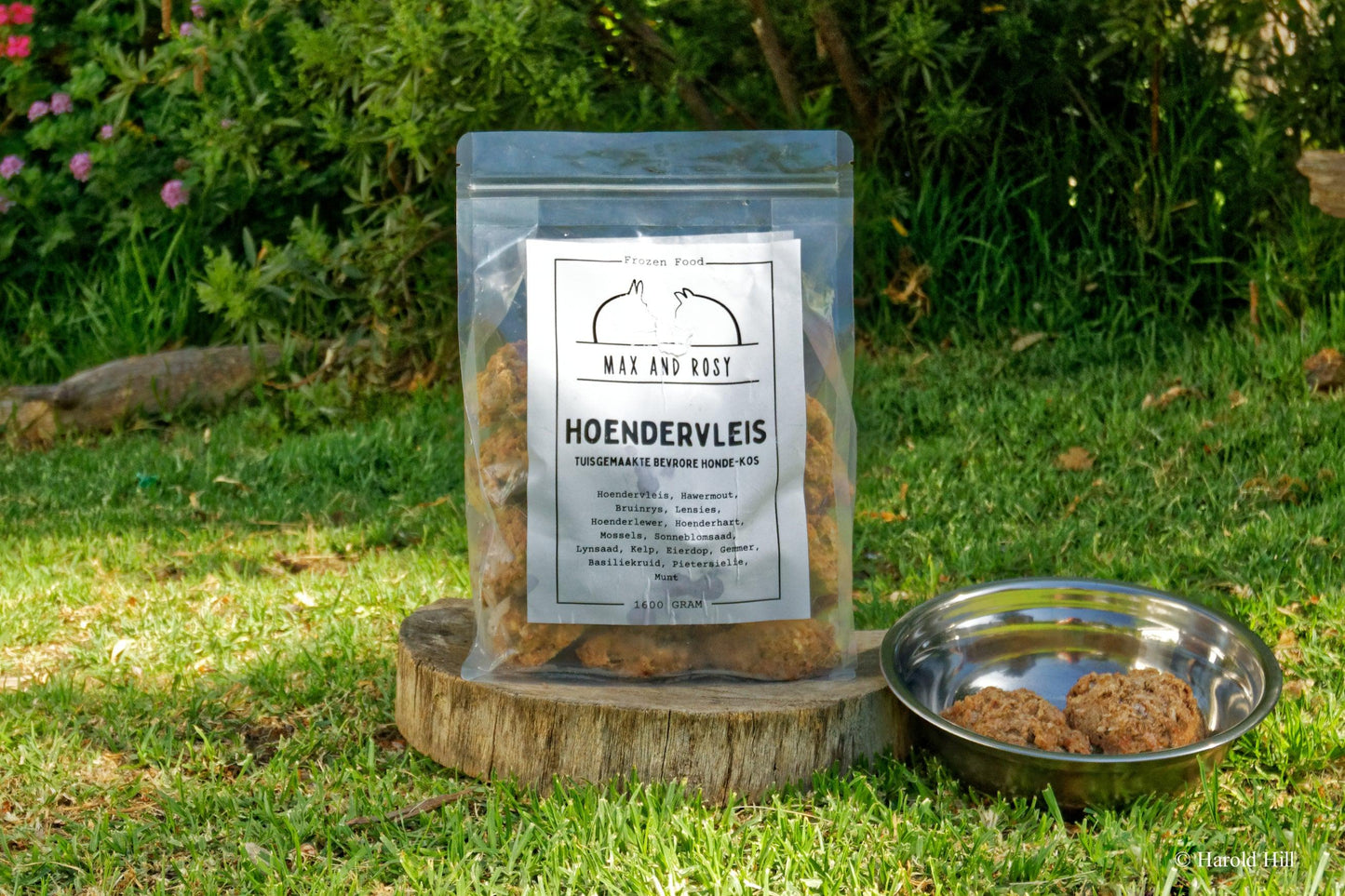 Wholesome Ingredients = Happy dog
I recently switched to Max and Rosy's natural frozen dog food and I couldn't be happier with the results! Not only is my dog more excited for mealtime, but the ingredients list is packed with wholesome, nutritious ingredients that I know are good for him. As a pet owner, it's a great feeling to know that I'm giving my furry friend the best possible nutrition.
Love it!
Such good quality wet dog food, my little dog really loves it.
Our Ingredients:
Beef, Chicken and Lamb Meat

Meat is an excellent source of protein and many important vitamins and minerals that your dog needs for overall health

Oats and Oats Flour

Oats contains a lot of fiber, antioxidant, all of which play an important role in maintaining or improving health.

Lentils

Lentils also provide some great nutrients as well as lots of protein and fibre. The fibre lentils provide is prebiotic fibre, which feeds the good bacteria in your dog's gut.

Brown Rice

Brown Rice is an excellent source of carbohydrates, vitamins and minerals. Specifically, vitamins D and B

Beef, Chicken and Lamb Hearts

Hearts are excellent sources of B vitamins, iron and essential fatty acid.

Beef, Chicken and Lamb Liver

Liver is rich in iron, vitamin A, B and D, folic acid, phosphorus, essential fatty acids, zinc, and copper. .

Garbanzo Flour

Garbanzo Flour adds a healthy boost of protein and fiber to your dog's diet, plus they're easy to digest and low on the allergy scale for dogs.

Broccoli

Broccoli is filled with a variety of important vitamins and nutrients, including Vitamin C, Vitamin K, and potassium. These nutrients work wonders on the heart health, bone density, and immune systems of canines.

Spinach

Spinach contains vitamins A, B, C, and K, as well as calcium, iron, fiber, manganese, folate, and potassium.

Bell Peppers

Bell Peppers are full of vitamin A, C, & E, and have tons of antioxidants. .

Mussels

Mussels are an excellent source of protein, omega-3 fatty acids, and essential minerals like zinc, iron, and manganese.

Tapioca starch

Tapioca starch provides fiber, minerals, and micronutrients to dogs.

Apples

Apples help to clean residue off a dog's teeth, which helps to freshen their breath. Apples are a good source of fiber as well as vitamin A and C.

Pears

Pears are a great snack because they're high in copper, vitamins C and K, and fiber.

Sunflower seeds

Sunflower seeds have a low saturated fat content and is rich in iron, selenium, and Vitamins E and B8.

Flaxseeds

Flaxseeds contains several essential nutrients that your dog needs to stay healthy. One of the most common reasons to give your dog flaxseed is to improve their skin and coat health. Flaxseed contains omega fatty acids and is especially high in the omega 6 fatty acid Linoleic Acid.

Sunflower oil

Sunflower oil also promotes energy, healthy immune function, heart health, and normal organ function.

Olive oil

Olive oil contains phytonutrients, vitamin E, and omega-3 fatty acids that help keep your dog's skin moisturized and well-nourished.

Coconut oil

Coconut oil can also improve dog's skin and coat, improves digestion, and reduces allergic reactions.

Parsley

Parsley is a natural breath deodorants, the chlorophyll that makes them bright green fights stinky bacteria in the mouth and in the digestive system. Parsley is also rich in folic acids and antioxidants. It has anti-inflammatory properties that help promote good kidney health and antimicrobial properties that promote good urinary health.

Basil

Basil is a anti-inflammatory and contains a high level of antioxidants that help prevent many types of illness including cancer. Basil also helps prevent cellular damage, calms your anxious dog, and eases arthritis pain.

Mint

Mint has natural antiviral, antimicrobial, antibacterial, and antifungal benefits which can all help freshen your dog's breath. Mint is also rich in Vitamins A and C which support healthy bones, skin, and vision as well as immunity

Ginger

Ginger is well known for its ability to support the digestive system and also natural antioxidant.

Kelp

Kelp is rich in antioxidants and a natural source of iodine.

Eggshells

Eggshells are a great source for the three important minerals of calcium, phosphorus, and magnesium.

Rosemary

Rosemary is high in iron, calcium, and Vitamin B6. Rosemary has also been shown to act as an antioxidant.

Limestone

Limestone is a natural source of calcium from calcium carbonate sourced from sea creatures.

Citric Acid

Citric Acid is a natural antioxidant and preservative.

Approved Vitamins, Minerals and antioxidants

We only use Approved Vitamins, Minerals and antioxidants in our Baked Dog Food because even when we baked our Dog Food at lower temps , some nutrients still gets damaged, not as much as with regural kibbles but to ensure our dog food is complete and balanced we use added vitamins and minerals.

Calcium Phosphateaids

Calcium Phosphateaids aids in healthy bone development and is crucial from infancy to adulthood